Cryptocoryne usteriana is one of the taller cryptocorynes and is very easy to grow.
Leaves are 3-5 cm wide with an embossed surface; they can easily reach more than 50 cm length.
With good light and fertilization, the upper side of the leaves will obtain a dark green or bronze-green colour while the back of the leaves will turn burgundy red.
Propagation is by long runners, and the plant tolerates quite alkaline water very well.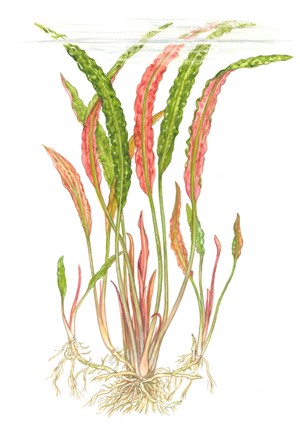 Plant info
Type:
Rosulate
Origin:
Asia
Country or continent where a plant is the most common. Cultivars arise or are bred in cultivation.
Growth rate:
Slow
Growth rate of the plant compared to other aquatic plants.
Height:
20 – 30+
Average height (cm) of the plant after two months in the tank.
Light demand:
Low
The average or medium light demand of an aquarium plant is 0,5 W/L.
CO2 :
Low
A medium need in CO2 is 6-14 mg/L. A high demand in CO2 is approx. 15-25 mg/L.